Cemetery location:
- lattitude:

42.5691667
- longitude: 76.2202778
- according to the Cortlandville 2009 Final Assessment Roll / Wholly
Exempt section, page 782 -- the cemetery is situated in the town of
Cortlandville, NY: Tax mapnumber: 95.00-10-07.000 (tax exemption:
695 : cemetery)
- Front: 212.91 ft
- Depth: 173.31 ft
- East: 0917940 North: 0936278
- According to the Town of Cortlandville Town Historian, Ron Rocco, the
cemetery is maintained by the Town of Cortlandville (grass mowing in
summer, occassional removal of debris, etc.)
Driving directions (from downtown Cortland, NY):
Drive South on Route 13 from the city of Cortland; from the point where Route 13 intersects Route 281, continue South approximately 0.5 miles toward the town of Dryden; the cemetery is located directly across from the super Wal-Mart (under construction as of Nov. 2009).
Note:
Just past the cemetery, on the left, is the intersection of Route 13 and South Cortland/Virgil Road; this intersection marks the center of what was once called "South Cortland" (duration, roughly 1800-1930) -- at one time featuring nearly two dozen houses, a small house worship, and (according to
French's 1860 Gazetteer
, page 252) "161 inhabitants."
Below, an interactive Google map that will get you 'close' to the area where the cemetery is located.
Below, a static Google satellite/aerial image of the cemetery and a couple nearby landmarks.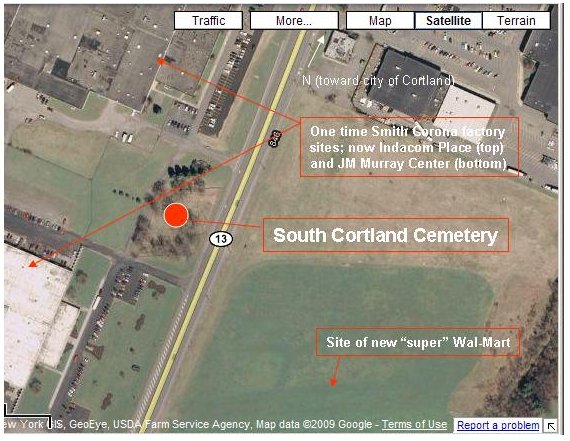 The map of the cemetery itself is below, developed by SUNY Cortland students Natalie Fernandes and Jeremy Wright as part of their Final Project for anthropologist/professor Kristina Killgrove, PhD candidate, UNC, Chapel Hill, when she taught in the Spring of 2008 at SUNY Cortland). The map indicates the placement of headstones, footstones, and trees in the cemetery (to download the map, click here). More information Ms. Kilgrove's assigned project can be found at her "Bone Girl" blog.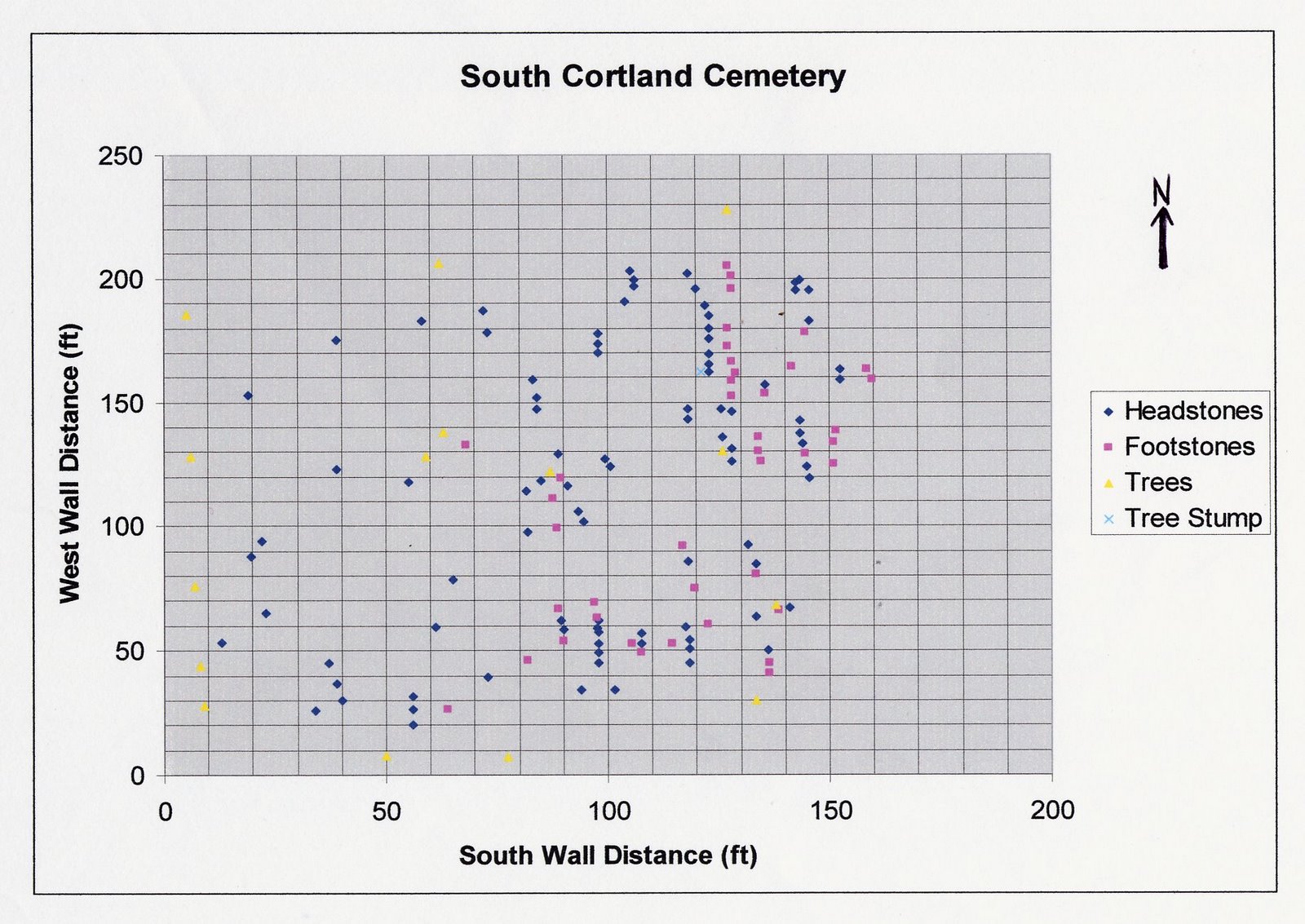 View a brief PowerPoint (PDF file) show showing the cemetery's location on various historical maps.